Diego Quintana Valenzuela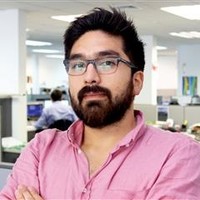 Bio
I am an Electrical Engineer and a Computer and Data Science enthusiast. I am curious and creative, and I am most motivated when innovating and trying out new things. I am driven by values, and I value human relationships. I learn best by doing and sharing.
I'm from Osorno, Chile. You can reach me at daquintanav@gmail.com.
Education
Msc, Computer Science and Engineering (Expected)
Master in Innovation and Research in Informatics, with specialization in Data Science (MIRI-DS) at Universidad Politécnica de Catalunya (UPC), Barcelona.
From September 2019 to September 2021
Fully sponsored by a scholarship from the Chilean Commission for Scientific and Technological Research (Conicyt).
Big Data Diploma
A postgraduate Diploma (144 hrs) on Big Data at the Pontificia Universidad Católica de Chile (PUC), Santiago, Chile.
During the second half of 2017.
Bsc, Electrical Engineering
BSc in Electrical Engineering (Six years degree), with specialization in Power Systems at Universidad de la Frontera (UFRO) in Temuco, Chile,
Final grade 6.2 of 7.0
Final project on "Digital Substation: State of the art technologies and development of test modules using ABB devices"
From March 2008 to March 2016.
Academic Exchange
Academic exchange in the Ruhr-Universität Bochum (RUB) at Bochum (NRW), Germany.
Fully sponsored by a scholarship granted by the German Academic Exchange Service (DAAD)
From August 2014 to August 2015.
---
Work Experience
Software and Data Engineer at CIAE, Universidad de Chile (Current position)
From November 2017 to September 2019 (~1.5 years).
Backend python developer and data engineer, with experience in public and private research projects related to education and social development.
Developed extensible python ETL pipelines for cleaning and validating data obtained from the public sector in Chile.
Participated as a teacher assistant in a training course on "Data Science and Public Analytics" for people of the Chilean Department of Social Development (English for Ministerio de Desarrollo Social)
Designed and developed a web application to manage visualizations related to the Public Education Sector in Chile, using Flask, Docker and create-react-app
Read more about the Advanced Education Research Center (english for Centro Avanzado de Investigación en Educación de la Universidad de Chile) in www.ciae.uchile.cl (spanish)
IT Consultant at AquaIntelligence
From July 2017 to October 2017 (~4 Months, part-time job)
Research on sensor technologies, Internet of Things and machine learning applications related to the aquaculture industry
Developed prototypes of database schemas
Government funded (CORFO Chile) startup project
Project Engineer at ABB Chile
From June 2015 to June 2017 (two years)
Substation Control, Protection and Automation Engineer in the Power Grids - Grid Automation division
Acted as a technical lead in +10 substation automation projects ranging from simple to mid complexity across Chile.
Develop project schedules under constraints, interacting with all the units involved.
Provided technical assistance to the Supply Chain and the Contract Management areas.
Acted as a technical specialist of the ABB's Digital Substations and IEC 61850 portfolio in Chile, supporting sales and performing as a speaker in conferences and training courses.
Led projects that required delegating tasks and managing small teams from other countries within ABB.
Speaker in the X Jornadas Técnicas ABB (X ABB Technical Conferences), about Digital Substations
Winner of the "most innovative project" at company level Hackathon held worlwide in ABB, using Arduino and ESP8266 microcontrollers
Read more about ABB in www.abb.cl
---
Tools, Skills and Programming Languages
I'm comfortable using Debian based Linux distros, and prefer using shell commands over GUIs built on top of them.
I'm proficient with Python 3. You can check my results from a PluralSight python assessment I took in 2017, which is on my StackOverflow profile. I've improved since then.
I have experience with packages like Flask, SQLAlchemy, Alembic, Click, pytest, pandas, numpy, scikit-learn, among others.
I'm fairly productive with git. You can check my results in the assesment available at my LinkedIn Profile.
I prefer using Docker, PostgreSQL and nginx in my personal projects.
I have little experience managing Azure VMs, and Amazon EC2 instances with docker-machine.
I have experience (and I like) teaching.
---
Human languages
Spanish (Native)
English C1 (IELTS Academic certification, 2018)
German B2/C1 (Test DaF certification, 2014)
Catalá B1
---
Professional preferences
I would like to contribute to solutions in one or more of these areas, with a focus on applications for the Social Good:
Smart Grids and Smart Cities
Network Science and Distributed Applications
Machine Learning and Artificial Intelligence
Data-Intensive Applications
I wish to get better at doing applied research and possibly, to develop an academic path from there. I will gladly consider positions that encourage this on their career paths.
---
This document was automatically autogenerated. You can read it online at https://diegoquintanav.github.io/pages/resume-EN.html.